MUST SEE MOVIES THIS MONTH | CENTRE PLACE
Entertainment
31 May 2022
Flicks on the BIG screen are back, and better than ever! If you've been missing date nights and family trips to the Cinema, now is the time to head back in and cosy up to watch some fantastic new releases.
Metro by Hoyts
Metro by Hoyts is like no other cinema in New Zealand. If you blended your favourite house, with a New York City street, it would look and feel like this! With recliner cinemas, the classic candy bar, and hot food to order – Metro offers something for everyone. You can check out their movie schedule HERE.
What's On?
This June is a BIG one for the big screen at Metro by Hoyts.
Top Gun: Maverick – In Cinemas NOW
After more than thirty years of service as one of the Navy's top aviators, Pete "Maverick" Mitchell (Tom Cruise) is where he belongs, pushing the envelope as a courageous test pilot and dodging the advancement in rank that would ground him. When he finds himself training a detachment of Top Gun graduates for a specialized mission the likes of which no living pilot has ever seen, Maverick encounters Lt. Bradley Bradshaw (Miles Teller), call sign: "Rooster," the son of Maverick's late friend and Radar Intercept Officer Lt. Nick Bradshaw, aka "Goose". Facing an uncertain future and confronting the ghosts of his past, Maverick is drawn into a confrontation with his own deepest fears, culminating in a mission that demands the ultimate sacrifice from those who will be chosen to fly it.
Jurassic World: Dominion – In Cinemas 9 June
This June, experience the epic conclusion to the Jurassic era as two generations unite for the first time. Chris Pratt and Bryce Dallas Howard are joined by Oscar®-winner Laura Dern, Jeff Goldblum, and Sam Neill in Jurassic World Dominion, a bold, timely, and breathtaking new adventure that spans the globe. From Jurassic World architect and director Colin Trevorrow, Dominion takes place four years after Isla Nublar has been destroyed. Dinosaurs now live—and hunt—alongside humans all over the world. This fragile balance will reshape the future and determine, once and for all, whether human beings are to remain the apex predators on a planet they now share with history's most fearsome creatures. Jurassic World Dominion, from Universal Pictures and Amblin Entertainment, propels the more than $5 billion franchise into daring, uncharted territory, featuring never-seen dinosaurs, breakneck action, and astonishing new visual effects. The film features new cast members DeWanda Wise (She's Gotta Have It), Emmy nominee Mamoudou Athie (Archive 81), Dichen Lachman (Agents of S.H.I.E.L.D.), Scott Haze (Minari), and Campbell Scott (The Amazing Spider-Man 2). The film's returning cast includes BD Wong as Dr. Henry Wu, Justice Smith as Franklin Webb, Daniella Pineda as Dr. Zia Rodriguez, and Omar Sy as Barry Sembenè. Jurassic World Dominion is directed by Colin Trevorrow, who steered 2015's Jurassic World to a record-shattering $1.7 billion global box office. The screenplay is by Emily Carmichael (Battle at Big Rock) & Colin Trevorrow from a story by Derek Connolly (Jurassic World) & Trevorrow, based on characters created by Michael Crichton. Jurassic World Dominion is produced by acclaimed franchise producers Frank Marshall p.g.a. and Patrick Crowley p.g.a. and is executive produced by legendary, Oscar®-winning franchise creator Steven Spielberg, Alexandra Derbyshire, and Colin Trevorrow.
Doctor Strange in the Multiverse of Madness – In Cinemas NOW
In Marvel Studios' Doctor Strange in the Multiverse of Madness, the MCU unlocks the Multiverse and pushes its boundaries further than ever before. Journey into the unknown with Doctor Strange, who, with the help of mystical allies both old and new, traverses the mind-bending and dangerous alternate realities of the Multiverse to confront a mysterious new adversary. Doctor Strange in the Multiverse of Madness stars Benedict Cumberbatch, Chiwetel Ejiofor, Elizabeth Olsen, Benedict Wong, Xochitl Gomez, with Michael Stühlbarg, and Rachel McAdams. The film is directed by Sam Raimi, and Kevin Feige is the producer. Louis D'Esposito, Victoria Alonso, Eric Hauserman Carroll and Jamie Christopher serve as executive producers. The screenplay was written by Michael Waldron.
Lightyear – In Cinemas 15 June
The sci-fi action-adventure presents the definitive origin story of Buzz Lightyear—the hero who inspired the toy—introducing the legendary Space Ranger who would win generations of fans. Chris Evans lends his voice to Buzz. Annie Award-winning director and veteran Pixar animator Angus MacLane helms "Lightyear." Galyn Susman produces.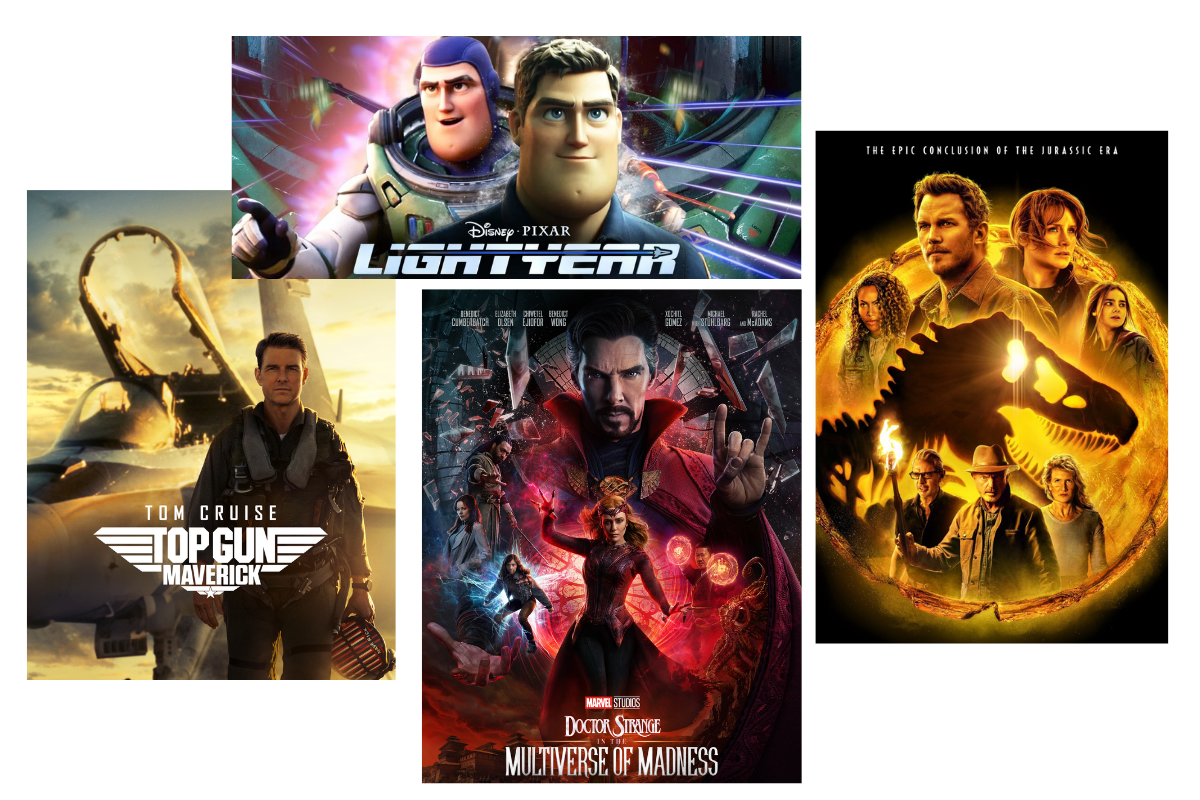 Lido Cinema
Sit back, relax and enjoy the lux life at Lido Cinema. Along with the French Film Festival, which is happening at Lido Cinema throughout June, there is some quality content coming to the big screen that we know you'll just love! You can find session times for Lido HERE.
What's On?
How To Please A Woman – In Cinemas NOW
Gina is not feeling fabulous. She has lost her job and feels stuck and frustrated in a passionless marriage. She has always lived life on the sidelines – that is, until she is met with the groundbreaking business opportunity of converting a team of well-built moving guys into well-built housecleaners. Initially the response from her ocean-swimming community is immediate, and her all-male cleaning staff an instant hit. Finally, she is the boss she has always wanted to be.
But, as her business booms, her clientele demands something more – sex, or better yet, pleasure. Faced with something far more than she imagined, Gina and her team, including her foodie manager Steve, launch an enterprise that is all about getting intimacy right between people. For the first time, the women experience desire on their own terms. As Gina faces the highs and lows, the joys and struggles of maintaining such a unique business, she learns to stand up for herself, to look out for her own happiness and pleasure, and to take control of her life. HOW TO PLEASE A WOMAN is a precarious, often hilarious and revealing journey into the vulnerable world of what women really want and how hard it can be to get it right.
Operation Mincemeat – In Cinemas NOW
A 1956 film, The Man Who Never Was, first told the compelling true story of a feat of wartime subterfuge like no other, whereby British Intelligence used a corpse to hoodwink the Germans into thinking that, in the pivotal summer of 1943, Allied Forces would invade the European mainland through Greece rather than Sicily.
Now, Operation Mincemeat re-tells the same story, but, inspired by Ben Macintyre's bestseller of the same name, it contains more facts than were known 66 years ago — principally that the dead body, dropped off the Spanish coast bearing fake papers, was really that of a Welsh tramp called Glyndwr Michael, who had died after eating rat poison.
In death he became Major Bill Martin of the Royal Marines, and a trio of intelligence officers, all sporting the same stiff upper lip whether under a moustache or not, concocted a back story that would convince Nazi spies of his authenticity.
The three men are Ewen Montagu, Charles Cholmondeley and future James Bond creator Ian Fleming, respectively and very nicely played by Colin Firth, Matthew Macfadyen and Johnny Flynn.
A tip-top supporting cast also features Simon Russell Beale as Winston Churchill, Jason Isaacs as intelligence chief Admiral Godfrey, plus Penelope Wilton, Kelly Macdonald, Mark Gatiss, Alex Jennings and Hattie Morahan.
It's a truly ripping yarn, to use period vernacular, to which John Madden's film mostly does proper justice. It's not perfect; a subplot in which Montagu and Cholmondeley both fall for the same woman, Macdonald's MI5 secretary Jean Leslie, feels like a duff note in a story that hardly needs contrivances forced on it.
But that and a few other small gripes aside, Operation Mincemeat rattles along like a thriller with an ending we can't be sure of, even though we are. And might it be that Flynn's dashing performance as Fleming puts him in the frame to be the next 007?
That would be a nice final twist to a story that has plenty of them already.
Downtown Abbey: A New Era – In Cinemas NOW
From award-winning creator Julian Fellowes comes the motion picture event DOWNTON ABBEY: A NEW ERA. The much-anticipated cinematic return of the global phenomenon reunites the beloved cast as they go on a grand journey to the South of France to uncover the mystery of the Dowager Countess' newly inherited villa.