NIGHT OUT AT CENTRE PLACE: REVIEW
Entertainment
29 September 2017
I don't do many nights out, having a little one at home, but when I do I like the experience to be easy and stress-free. There are a few good movies showing at the moment so I organised to meet a friend for a casual dinner out, followed by a movie at Centre Place.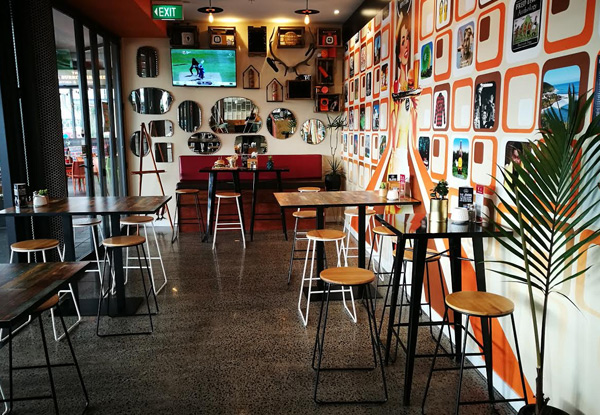 The Jandal - Centre Place.

.
When I say I prefer stress-free, that includes finding a park – not always the easiest in Hamilton! I knew that Centre Place offers free undercover parking with the purchase of movie tickets (and on late nights and weekends!) and I also knew there would be a good chance my attire of the day would include sneakers. Bearing this in mind I decided on dinner at Breakers, located in the dining precinct on Bryce Street.
My friend is usually late and I knew I would be early, so I was able to park my car and not get wet, and take a leisurely stroll around the mall enjoying a spot of relaxed late night shopping without any of the awkwardness of sitting in a restaurant alone staring at my phone. Big tick for that.
When she finally arrived, I was in the middle of buying some fantastically cheap workout gear from Cotton On Body (pretty workout gear means more inspiration to work out right?), so I simply strolled back through Centre Place to meet her already enjoying a drink at The Jandal Bar, the bar side of Breakers. With windows facing out to Bryce Street, it's a great people watching spot.
We could have ordered from a range of easy snacks at The Jandal, but decided we had time for a proper sit-down meal so we perused the Breakers menu and in a matter of minutes we were tucking into a satisfying Kiwi pub classic – steak, chips, and salad. The food was quick and reasonably priced, the service was friendly – and if you're on a budget, the featured specials of the day provide great sized meals at great prices. I saw a few families in there, so made a mental note that it would be an excellent place to dine with the threenager in future – check the kids' menu here!
We split a warm homemade apple pie for dessert (recommended), and were running late, but it was only a two minute stroll through the mall (hair remained dry) to Metro by HOYTS. The cinemas have recently gone through an upgrade, so we were able to grab a nice glass of NZ pinot and settle back in roomy reclining chairs for the movie. I'd ordered the tickets online earlier that day, so there were no issues with waiting for tickets – sorted!
We'd come in separate cars but I felt completely secure walking back to my car alone after the movie, located in the well-lit Centre Place car park, and plenty of people around – no problems.
My evening out definitely ticked the boxes for convenience, no-stress, and value for money – I will be repeating this experience!
Tips for getting the most of your night out
Make the most of the free undercover parking and remember to validate your parking ticket at the customer service desk.
Last minute shopping/errands not a problem. Make the most of the Thursday late night shopping, with 9pm close. Stores close at 6pm Friday/Saturday, and 5pm Sunday.
It is definitely worth checking out the Breakers specials of the day for a bargain bite!
If time is at a premium or it is a popular showing, book your movie tickets online to save time.
Sign up for the HOYTS rewards to earn points and be alerted to offers
Fancy writing a review for us too? We might even shout you a meal out! Email writeforus@kp.co.nz if this sounds like a bit of you!