PODCASTS FOR LIFE | THE GOOD STUFF | CENTRE PLACE
Entertainment
20 April 2020
How do you podcast? Me, I listen to an episode a day whilst I stride out with my dog, virtuous in learning something new, keeping up with the news or being entertained (as well as both of us getting some exercise!).
With the bazillion* (*may not be accurate) podcasts that you could peruse, it can be overwhelming to know what to listen to next. In search of #TheGoodStuff, I've noted here a few podcasts that could tempt you. If one of my faves tickles your fancy, click on the name to be taken to its relevant website or type the name in the search field your preferred podcast source and enjoy!
This is part of our series, #TheGoodStuff, where we are sharing our favourite stuff with you to keep you entertained, supported and inspired!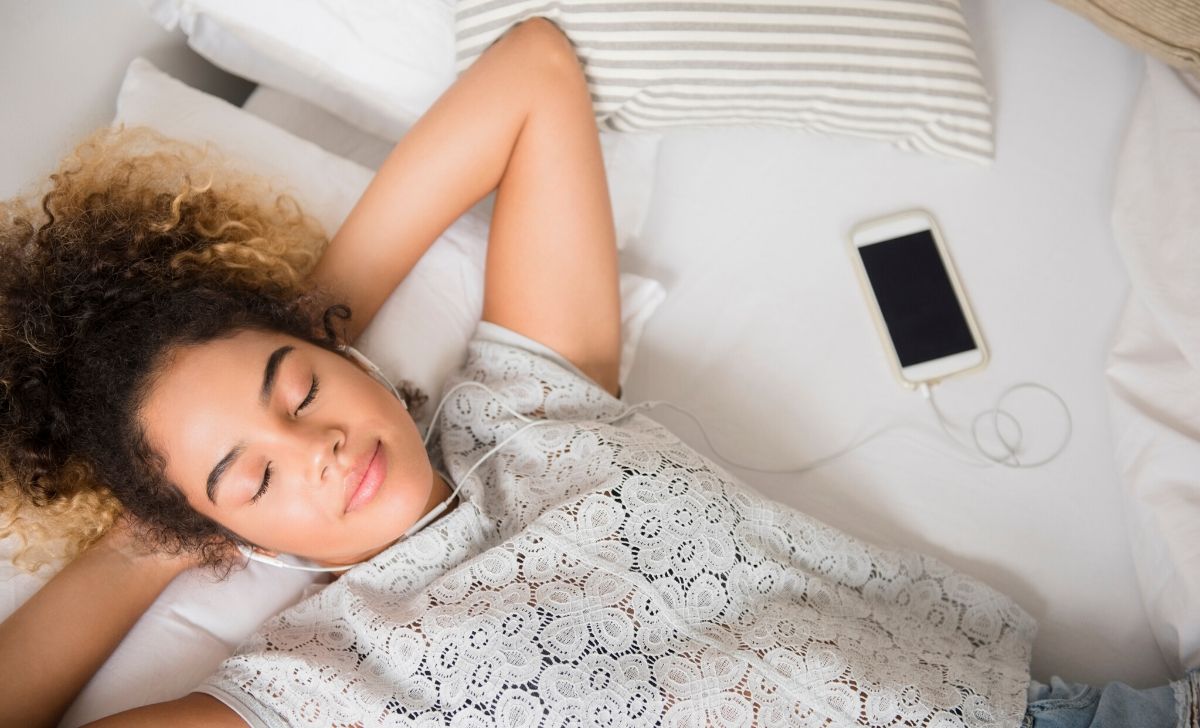 FASHION FASHUN
Dressed: The History of Fashion
When I think of the history of fashion, I think Miranda Priestly, resplendent in The Devil Wears Prada, telling Andy about the origins of her "cerulean" "lumpy blue sweater". Dressed: The History of Fashion explores the who, what, when and why of what we wear. Loved the episode on the symbolism in the Game of Thrones costumes and currently listening to the origin of cat-eye glasses.
Others to try:
My Heels Are Killing Me: An NZ offering. There hasn't been a new episode since May 2019, but those new to discovering this podcast will find a back catalogue full of interesting, insightful interviews with those working inside the fashion industry.
The Business of Fashion: Perfect stopping point for in-depth interviews with designers and players within the fashion industry. Scroll past the musings on the current climate to find fascinating interviews with the likes of Christian Louboutin (red soled high heels) and Carine Roitfeld (of French Vogue fame).
Offline, The Podcast: An Australian offering, hosted by Alison Rice, where honest conversations are had with some of the humans behind super popular Instagram accounts.
Fashion Unzipped: Dissecting the costumes from some of our favourite shows, discussing model body shaming and what the 2010 decade looked like for fashion. Hosted by The Telegraph's senior fashion editors.
Images: Dressed: The History of Fashion – iheart.com, My Heels Are Killing Me – rnz.co.nz, The Business of Fashion – stitcher.com, Fashion Unzipped – podbean.com, Offline, The Podcast – stitcher.com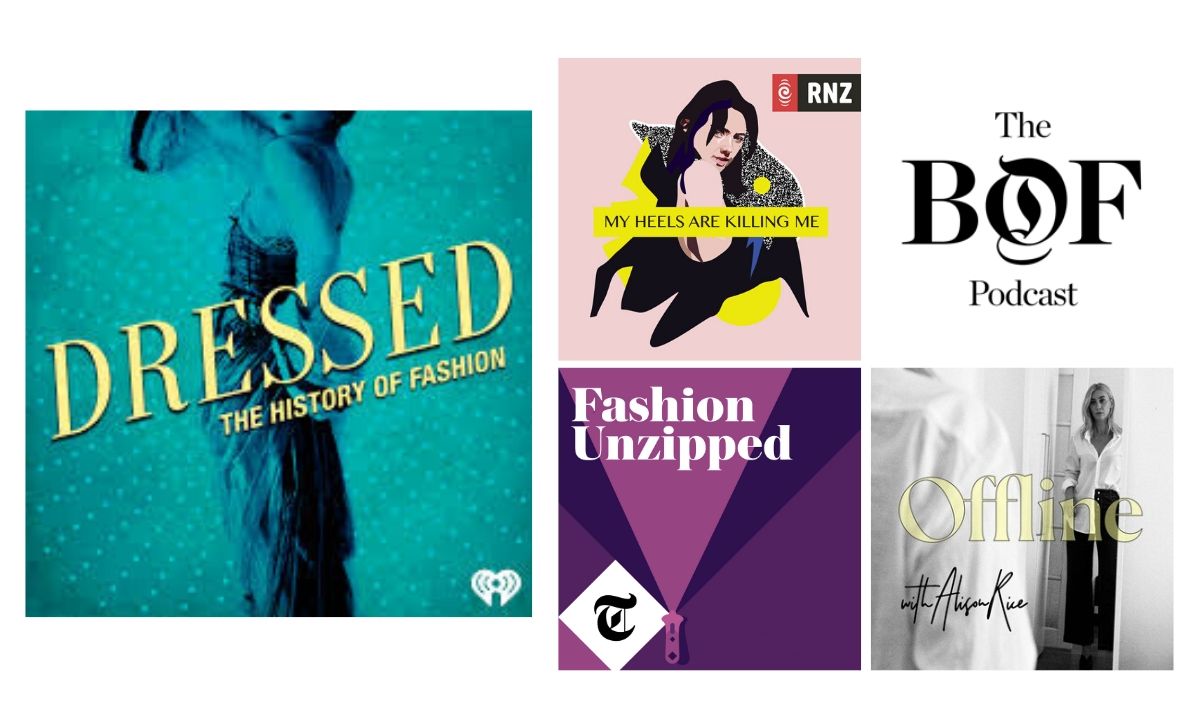 WORKY WORK WORK WORK
Work In Progress with Sophia Bush
Actor and philanthropist, Sophia Bush hosts, interviewing achievers in a range of industries, on how they've gotten to where they are today and what's next for them. The range of people hosted in this podcast makes it infinitely interesting.
Others to try:
Spectacular Failures: We've all got that one million dollar idea, right? Here you can listen to some spectacular business failings and the lessons learnt from them.
How I Built This: Stories behind some of the world's best known companies. A show, hosted by Guy Raz, all about possibility. Scroll through the episodes to listen about businesses you have a particular interest in… or just listen to them all.
Akimbo: A Podcast by Seth Godin: I read Seth Godin's daily blog, so I'm already a fan. The Akimbo podcast is also perfectly shaped into bite sized pieces of 20-30 minutes delving into one idea about our culture to challenge your current thinking and practices in work and home life.
TED Radio Hour: Weekly drops that explore fresh ways to think and new ideas to old problems. Each week is centred on a theme. Co-produced by TED and NPR, it's been on-air since 2012 so there's lots of episodes to sink your 'ears" into.
Images: Work In Progress with Sophia Bush – podbean.com, How I Built This – npr.org, Akimbo: A Podcast by Seth Godin – akimbo.link, Spectacular Failures – spectacularfailures.org, TED Radio Hour – npr.org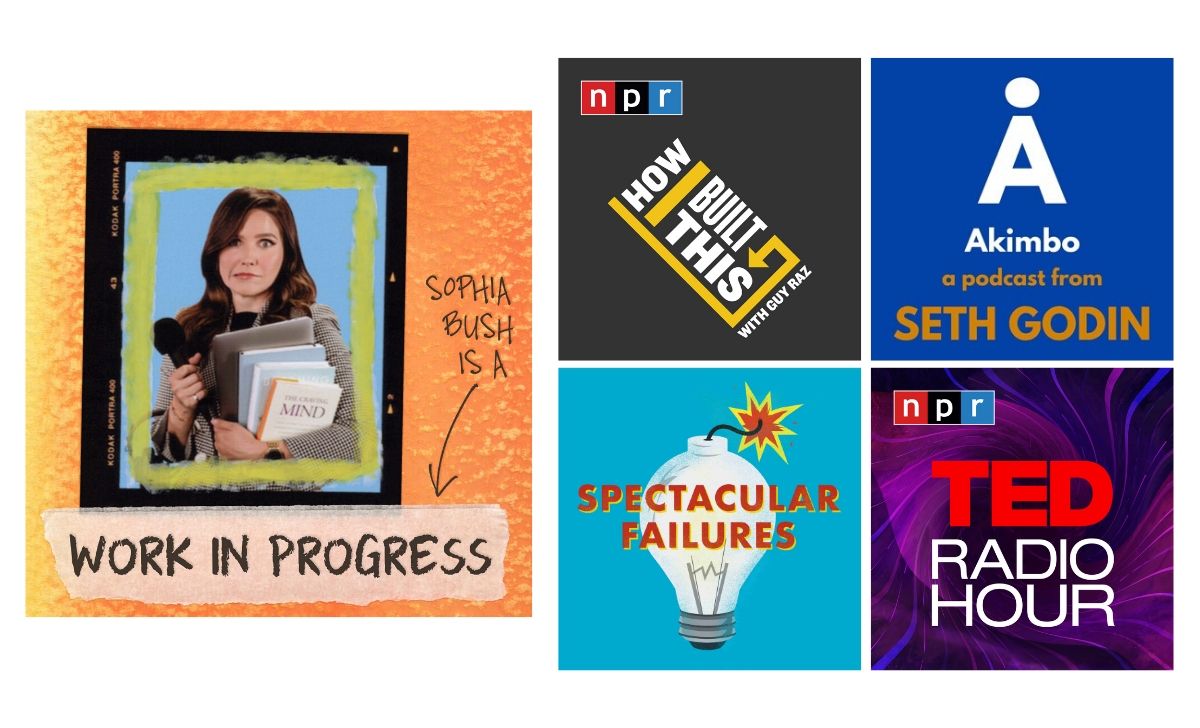 HE DID IT
Serial 
Now in season 3, "Serial" tells one (riveting) true story each season (so listen in order). The latest season focuses on the weekly cases in a Cleveland courthouse which is as mad as it sounds. The Serial series is award-winning in the podcast world and one of the granddaddies of a single story each season format.
Others to try:
Drunk Women Solving Crime: The title kinda says it; women, having a glass of wine, with special guests including crime fiction writers and other comedians, who work their way through solving true crimes. Very funny. Look out for the episode with Joe Lycette.
Disgraceland: Musicians getting away with murder. Each episode is around 30 minute journey into some crazy criminal stories with some pretty infamous pop-stars. Famous people behaving badly but also a fabulous look at some iconic moments in music history.
Atlanta Monster: I was brought to this podcast by the Netflix series, Mindhunters, season two, which focuses, in part, on the Atlanta child murders. Follow the story over 10 episodes, plus a bunch of bonus eps including delving into criminal profiler John Douglas. Also check out the full season of Monster: The Zodiac Killer and the new season, Monster: DC Sniper.
Bad Batch: A six part investigative series into stem cell treatments and the case of several patients in Texas and Florida who became ill after receiving a particular "batch". By the same team who produced Dr. Death; settle in for the ride.
Images: Serial – stitcher.com, Disgraceland – iheart.com, Atlanta Monster – en.wikipedia.org, Drunk Women Solving Crime – acast.com, Bad Batch – forbes.com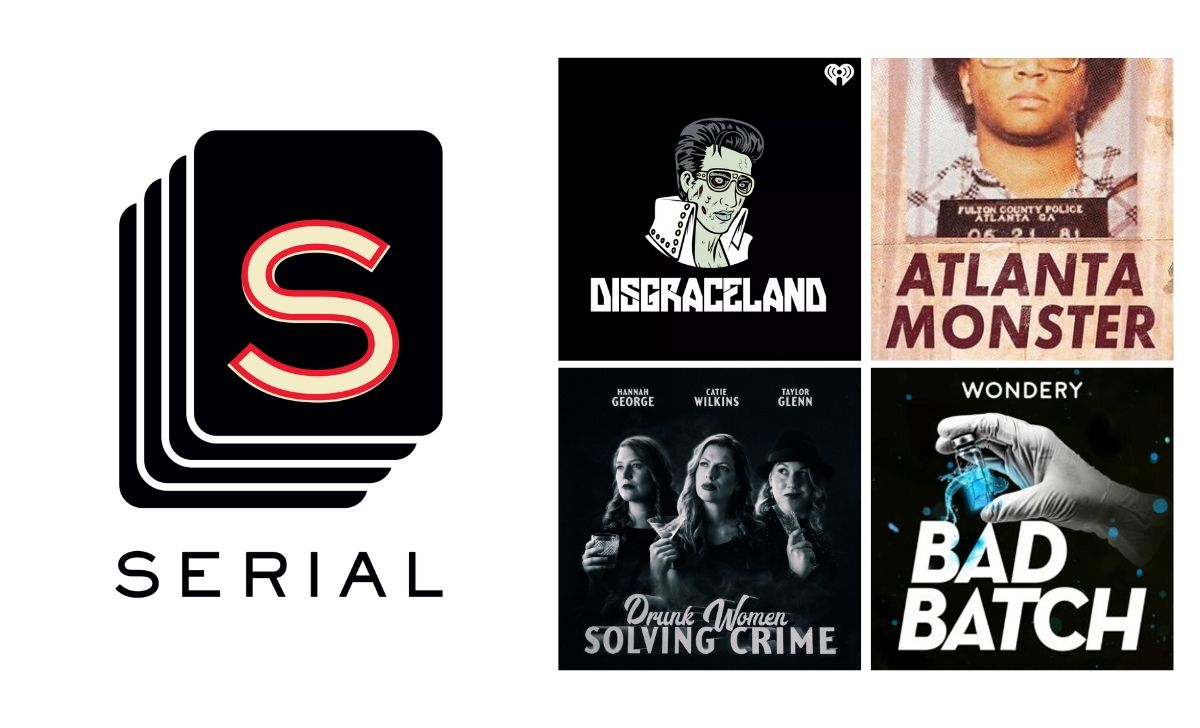 CHATS & YARNS
Shameless
The podcast for smart people… who love dumb stuff. Hosted by Melbourne journos, Michelle Andrews and Zara McDonald, there's twice weekly episodes, one on their take on the latest pop culture and celebrity news, the second, an interview with an influential person. Voted Australia's top podcast of 2019, it's totally understandable why. The interviews are fresh, honest and inspiring and the general chat (along with the in-jokes) make you feel like you're catching up with your girlfriends over a glass of vino.
Others to try:
The Girls Uninterrupted (previously "Girls on Top"): Three strong, vibrant, opinionated Kiwi gals with all the chat… the type of chat you have with friends you've had since primary school.
Dolly Parton's America: So fabulous. Jad Abumrad hosts an exploration into the universal love of Dolly Parton. Nine episodes of per joy, country and magical storytelling.
The Joe Rogan Experience: The big daddy of all podcasts (1,445 episodes and counting), filled with fascinating conversations with all sorts of people. Each episode is a biggie so plan on one episode filling the whole evening.
Off Menu: Hosted by comedians, Ed Gamble and James Acaster, special guests are invited to a magical restaurant where they choose the menu. Good chats ensue.
Images: Shameless – open.spotify.com, The Girls Uninterrupted – podtail.com, Dolly Parton's America – music.apple.com, The Joe Rogan Experience – m.youtube.com, Off Menu – play.acast.com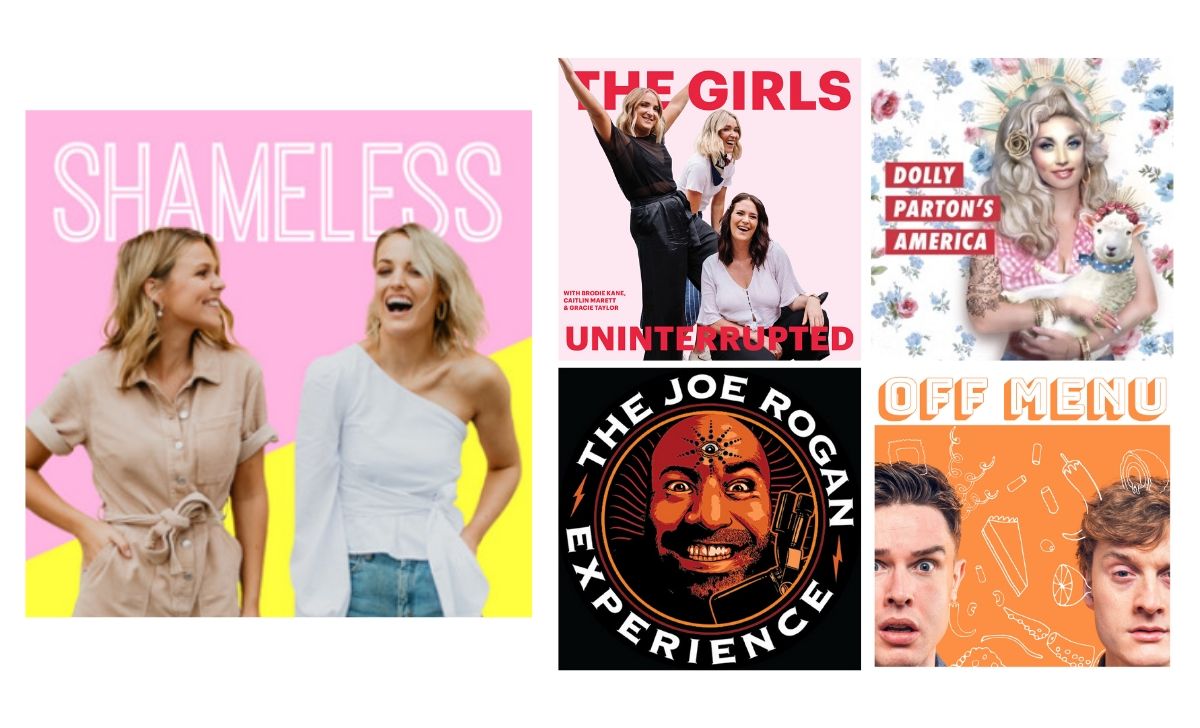 SOUL FOOD
Unlocking Us with Brené Brown
I'm a Brené Brown convert. Like many, I started with her TED Talk on "The Power of Vulnerability" and have devoured any content from her, ever since. The "Unlocking Us" series hosts some pretty fabulous interviews with inspired thinkers as well as "one-on-one" episodes with Brené, herself.
Others to try:
Oprah's SuperSoul Conversations: Having grown up with The Oprah Winfrey Show, Oprah's interview style soothes and uplifts. There's 268 SuperSoul Conversations to choose from to be inspired by; all winners.
TED Talks Daily: I have been introduced to some of my most inspiring thought leaders via TED Talks. What better way to have your thoughts challenged and be energised by, than picking up the daily talks delivered here.
The Goop Podcast: Whilst some of Goop's philosophies should be taken with a grain of salt, the podcast with Gwyneth Paltrow is a great series of interviews with a range of thought leaders, scientists and change makers that's worth plugging in to.
Well & Good with Art & Matilda: Local show, I stumbled across the Well & Good podcast when looking for interviews to listen to from Dr Libby Weaver and Ben Warren (both on the show!). Art and Matilda are a wonderful combo and the interviews are great chats with those from the health and wellness industry.
Images: Unlocking Us With Brené Brown – stitcher.com, Oprah's SuperSoul Conversations – podbean.com, TED Talks Daily – ted.com, The Goop Podcast – goop.com, Well & Good with Art & Matilda – chartable.com