BACK TO WORK WARDROBE | CENTRE PLACE
Fashion
12 January 2021
The Summer holidays are slowly (but all too quickly) coming to an end! It's time to get back into the swing of things, which for a lot of us means back to the office! It's always a bit sad moving from living in jandals, swimwear, oversized hats and your best baggy tee and back into workwear for the majority of the week. Why not make it a little more exciting and spruce up your work wardrobe for the new year?! We've put together some of our top workwear picks from Centre Place, to help beat those back-to-work blues, and make returning to work a little more bearable!
Brighten it up!
Nothing makes a drab day more exciting than a bit of colour! Don't be afraid to add a little (or a BIG) splash of colour to you work wardrobe – whether it be in the form of your clothing, accessories or shoes. Find the colours that compliment you best and go for it! We're seeing lots of bright bold colours in stores now, and there really is something to suit everyone!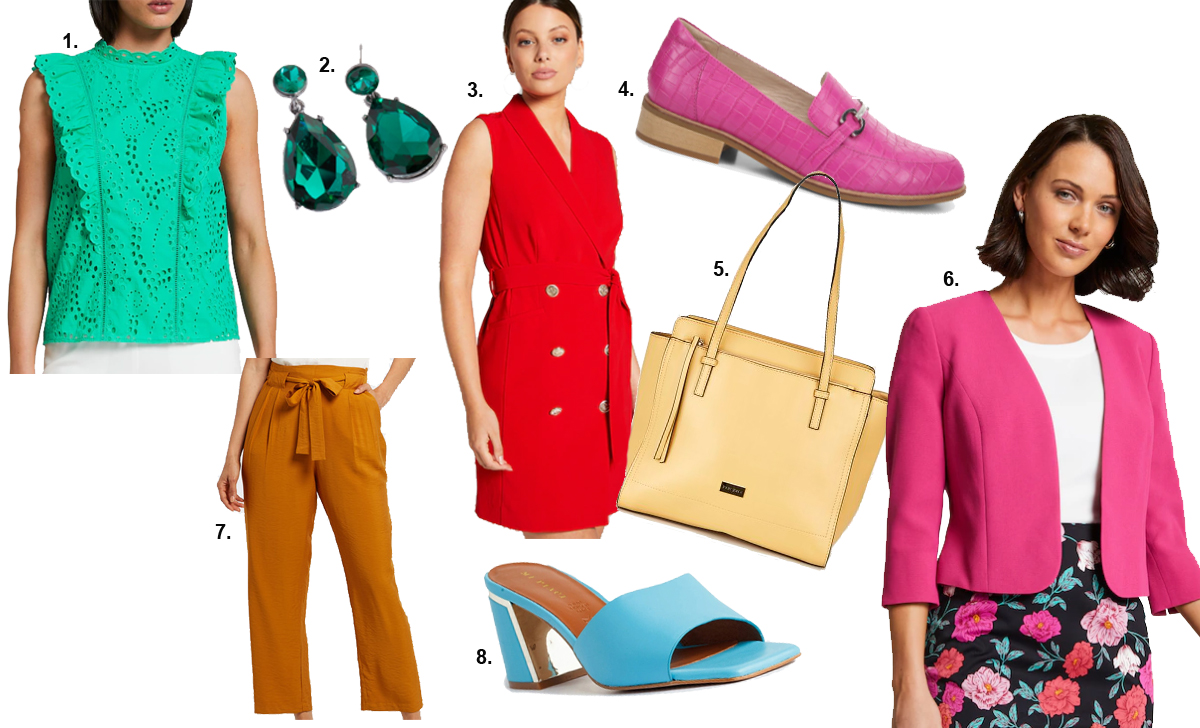 1. Summer Perfection Broderie Top in Mint Leaf, Portmans | 2. Green Gunmetal Teardrop Gem Earring, Lovisa | 3. Deanna Blazer Wrap Dress in True Red, Portmans | 4. Vienna Leather Loafers in Fuschia, Hannahs | 5. Laura Jones Zip Pull Tote Bag, Strandbags | 6. Emily Jacket in Magenta,  Jacqui E | 7. Whistle Tie Front Pant in Marigold, Farmers | 8. Simara Mule , Mi Piaci.
Keep it classic
If brights aren't your style, and you prefer a more muted classic style for work – we have you covered. To mix things up, try playing with texture – lace and a bit of frill are a great way to add a bit of interest to a work day outfit. Just because brights aren't your thing, it doesn't mean patterns aren't for you. We are seeing lots of monochrome patterns in stores now which is a great way to make your office outfit pop! Don't be afraid to add a little sparkle through your accessories to glam the outfit up a little, too!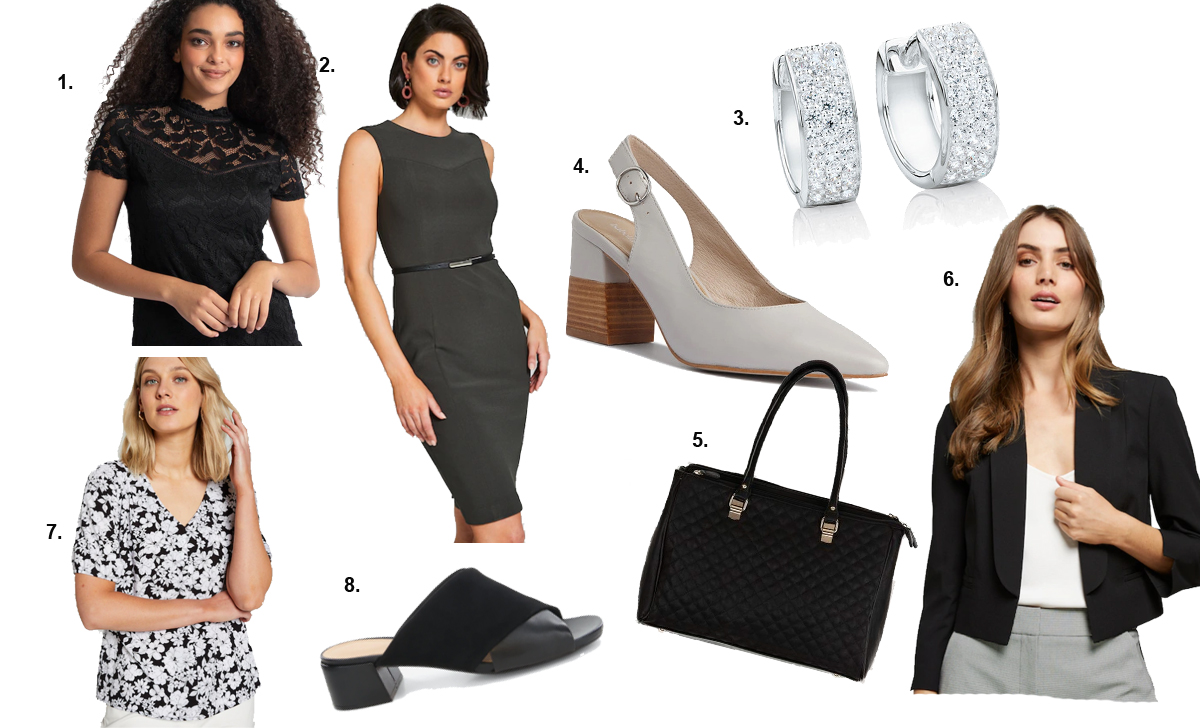 1. Lace ladder trim short sleeve, Pagani | 2. Rosie Seam Detail Dress, Portmans | 3. Reversible Huggie Earrings with Cubic Zirconia in Sterling Silver, Michael Hill | 4. Scotch Dress Court in Bone, Merchant | 5. Laura Jones Elle Business Tote, Strandbags | 6. The Chloe Cover Up Blazer,  Portmans| 7. Rasalie Blouse, Jacqui E | 8. Sheer 35 Leather Mules , Hannahs.
Make sure you head into stores now to pick up some of these gorgeous pieces to help you settle back into work life, while you count down the days to the next Summer getaway!