GIFTS DAD WILL LOVE | CENTRE PLACE
Lifestyle
26 August 2022
Not all dads are created equal. While we don't want them to sound like male versions of The Spice Girls, some are sportier than others, some more posh. There are so many categories we can put them in: action man, king of the kitchen dad, designer dad, nerdy dad… and then there are all the adjectives we can add like caring, supportive, strict, entertaining, tough, inspiring…
Being a dad (or taking on the role of a dad) is a big job. As most dads recognise, getting this dad job right really matters. Being a dad involves a massive love force given that the love of a parent is unconditional.
The dad journey involves many proud pat-on-the-back moments, many rewards, adventures, side-line excitement and sheer fun. But being a good dad involves hard slog too.
So, let's say thanks. In the lead-up to Father's Day (September 4) let's take some time to find a gift for our dads – or, ensure our kids have a gift for dad – as that's another thing about fatherhood… it is most certainly worth celebrating.
SPORTY DAD
Most of us can lay claim to a dad who engages in at least one sporty pursuit – some, of course, have various sport-related activities as their main leisure activities. So, let's help kit them out in some essentials, or even replenish/update what they have. It could be that the sports bag and tracky pants are looking a little tatty? Deodorant (Jimmy Choo no less) is always a great idea if there's sweat going on and, who wouldn't want some Converse high tops? Three cheers for Sporty Dad looking the part.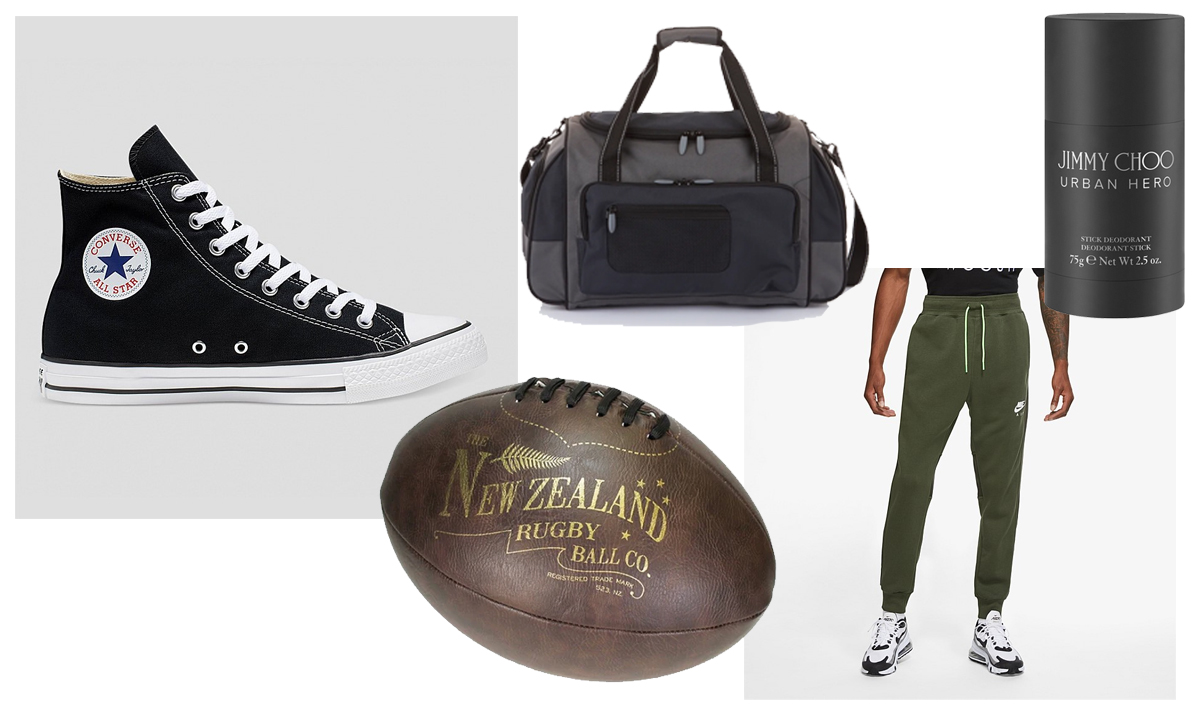 Converse Chuck Taylor all star high top, $120, from Stirling Sports; Moana Road vintage-look rugby ball, sponge bag, $39.99, from Acquisitions; Flylite discovery 55cm sports duffle bag, $84.99, from Strandbags; Jimmy Choo man blue deodorant stick, 75gm, $37, from Farmers; Nike sportswear air brushed-back fleece pants, $110.00, from Stirling Sports.
TRAVELLING DAD
We've been sitting tight for years thanks to the Covid Pandemic and can be excused for thinking that it's high time we got a move on. Let's get outta here! There's probably a higher chance than usual that dads out there have travel on their mind. It's time to dust off the travel bag… or buy a new one, and gather some essential travel companions like ear pods, an extra layer of clothing, and some moisturiser (especially if travelling at altitude, or heading to the snow, or the sun for that matter). A wee trip away is great for the soul, so buy dad a travel-related gift and you can rest assured you are making great things happen.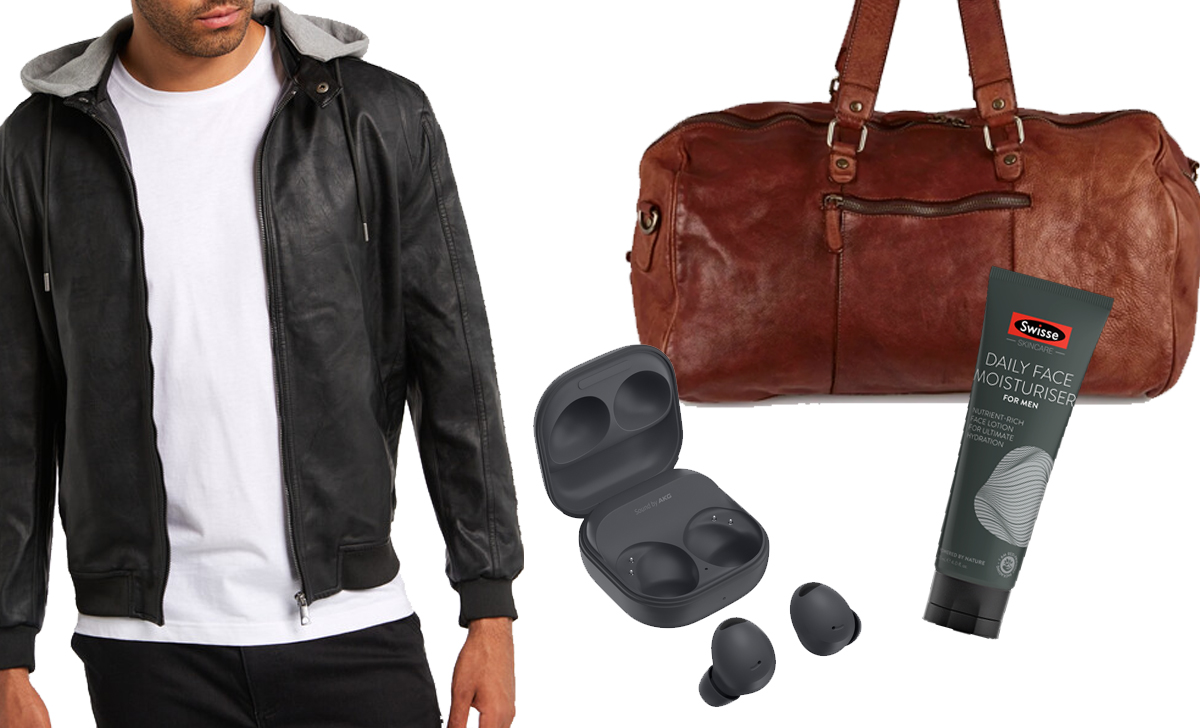 Colorado weekender travel bag, $299.00, from Strandbags; Swisse for men daily face moisturiser, 120ml, $10.99, from Chemist Warehouse; Samsung Galaxy buds2 pro (graphite), $279, from Spark; Tarnish hooded PU jacket black, $129.99, from Farmers.
PASSIVE RELAXATION DAD
If there's ever a day for dads to fully embrace rest and relaxation, it's Father's Day. It's the ticket to a day blobbing out on the couch and enjoying a good book, a movie, some play station, some excellent music – whatever takes their fancy, with the common denominator being … passive. While we've headed this Passive Relaxation Dad, it could just as easily be called bookish dad or techno dad or gamer dad – whatever's integral to them when it comes to R& R. Remember, for dads who enjoy adventure, sport, or cooking, there's usually a book to go with that, and A Bunk for the Night and Pimp Your Air Fryer (a recipe book with a difference) are examples of that.  And if your dad's tastes in reading lean toward a bit of action and escapism then David Baldacci will deliver. While Father's Day is all about Dad, how good is it when his gift benefits the whole household, just as a Sonos speaker would, and a wireless headset too (he can enjoy uninterrupted PlayStation fun, while the rest of the house enjoys peace and quiet!)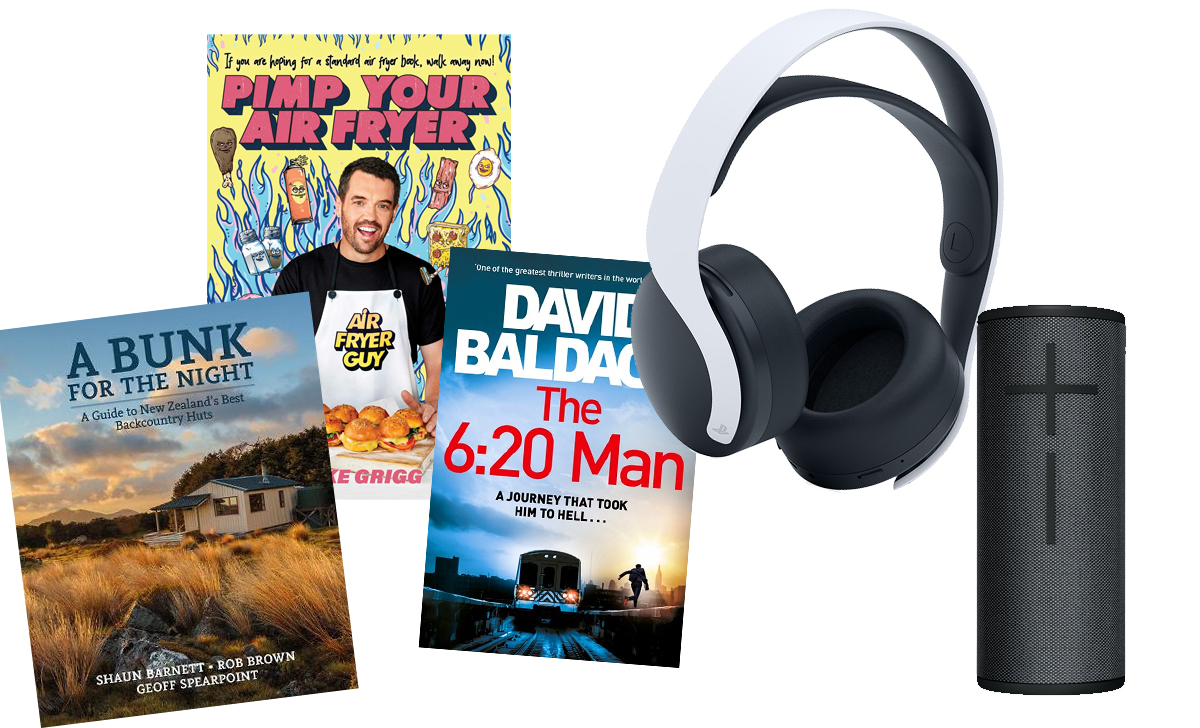 A Bunk for the Night – guide to New Zealand's best backcountry huts, $49.99, from Whitcoulls; Pimp your air fryer book, $28.99, from Whitcoulls; 6:20 Man by David Baldacci, $29.99, from Whitcoulls; Logitech Ultimate Ears Boom 3 – Night Black, $279.90, from Spark; Sony PlayStation 5 pulse 3D wireless headset, $179.99, from EB Games.
HAVE A JOKE DAD
They can be funny creatures, Dads! And they're often those we like to poke fun at or enjoy a good joke with. All this points to dad's being excellent recipients of some humour on Father's Day, and so let's check out some quirky/funny gift ideas. We all joke about dads not rating socks as a great gift – so giving them is a joke in itself and hey, find a fun pair and why not? Most of us also cringe at dad jokes, but it's his day, so we'll tolerate them – some new material courtesy of a Dad Jokes book may help those jokes go down. Things not necessarily so exciting, like soap and mugs, can soar if they've got the right words on them! Perhaps your gift is of the more serious kind and all you need is the right card to add some fun. The one featured here says "my favourite kid gave me this card." It's always good, I reckon, if you can have a chuckle at the checkout!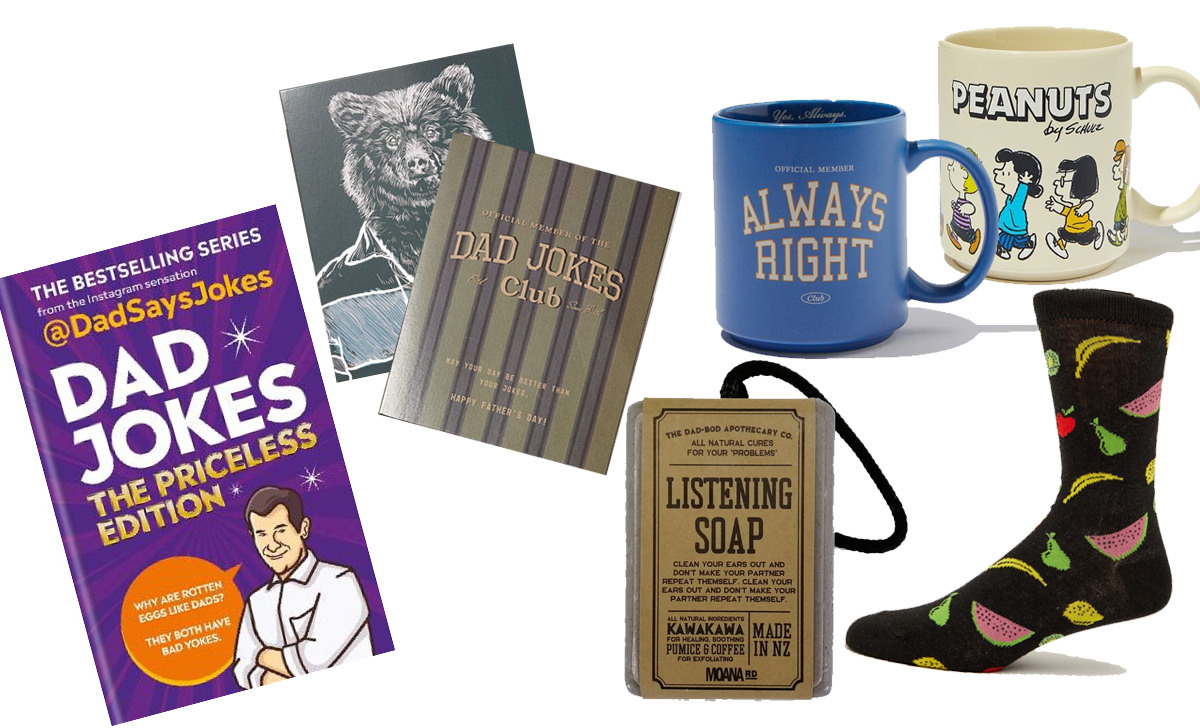 Dad Jokes, $27.99, from Whitcoulls; Father's Day cards, $5.99, from Typo; The Dad-Bod Apothecary – listening soap, $13.99, from Acquisitions; Fruit salad dress socks in black, $9.99, from Hallensteins; Daily Mugs, $8.99 & $11.99, from Typo.
TRENDY DAD
Attire less dire, that's what we want for our dads. It's time to say adieu to the baggy, the holey, the scruffy. To be fair, perhaps he already makes good clothes and accessories choices, in which case, he'll be a happy and appreciative recipient of some new additions. It's hard not to smile when you're gifted something that's straight-out cool, so let's add some more suave and trendy items to Dad's coat hangers and shelves. Put the word "aviator" in front of sunglasses and in these Top Gun times you've scored a winner already! Linen shirts are timelessly wonderful, caps continue to be cool, and Birkenstocks take men's sandals to a new level. It's cool to shop with trendy in mind.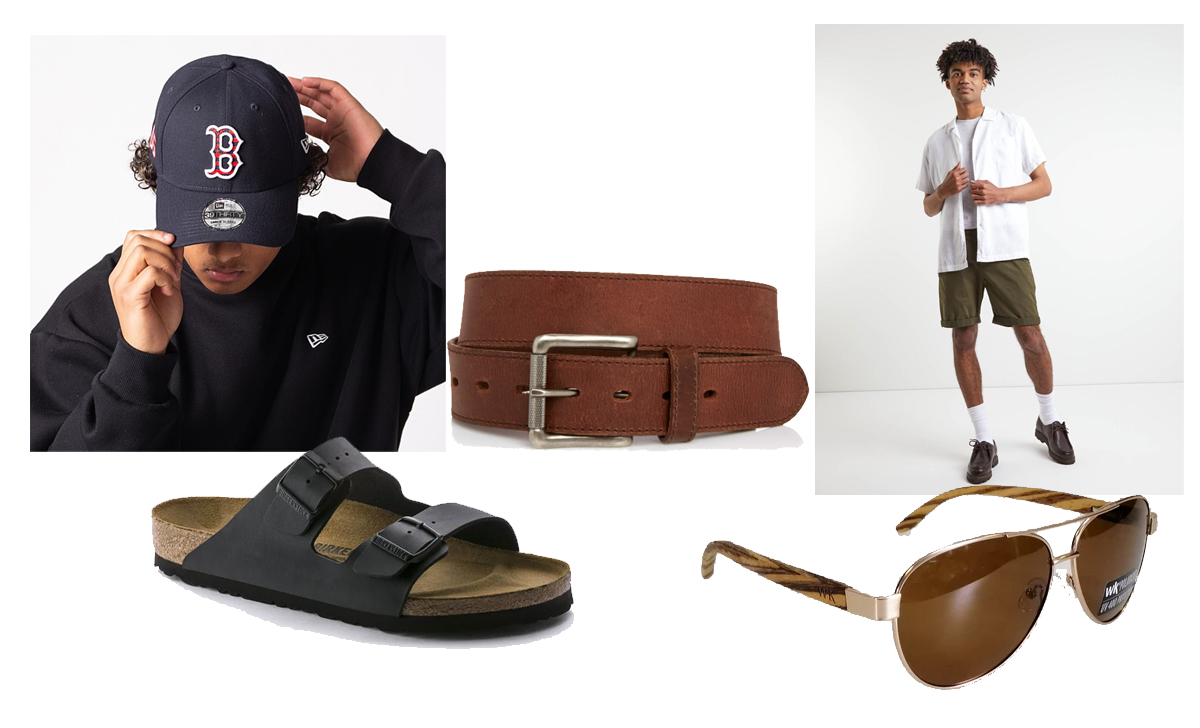 Birkenstock, Arizona black, $169.99, from Platypus; 3930 Boston Red Sox Stripe Logo Cap, $55.00, from Stirling Sports; Cuba 100% linen shirt in white, $19.99, from Hallensteins; Wild Kiwi sunglassers aviator, $39.99, from Acquisitions; Will leather belt in tan, $49.99, from Just Jeans.