FINISH THAT KITCHEN IN STYLE | CENTRE PLACE
Lifestyle
13 January 2021
Like many Kiwi's 2020 was the year of renovation for me.
After several years of planning, I finally took the plunge and put in a new kitchen. Careful consideration was given to cabinet colour, benchtop type, layout and where the basics would go. But, whether you go kitset or full custom, there comes that moment when you've put everything in the cabinets and drawers and it's time to add your stamp and personality.
If you're like me you may not want to add clutter but add colour so go for something with function such as this handy utensil carousel from Acquisitions or some very cool ceramic animal coasters or mugs. Hang the mugs on a mug tree to maximize bench space and keep them in easy reach.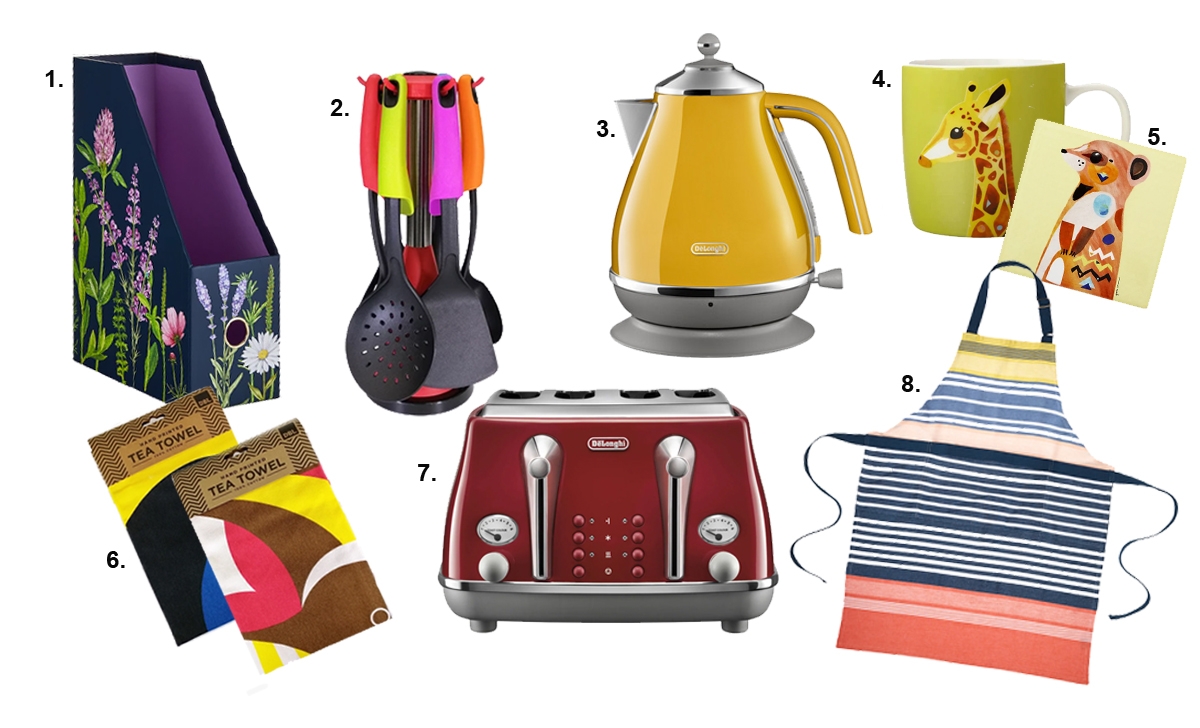 1. WHSmith Meadow Magazine File Dark Blue and Floral, Whitcoulls | 2. 6-Piece Nylon Utensil with Stand, Acquisitions | 3. DeLonghi Icona Kettle in Yellow, Farmers | 4. Maxwell & Williams – Pete Cromer Giraffe Mug, Acquisitions | 5. Maxwell & Williams – Pete Cromer Meerkat Coaster, Acquisitions | 6. Tea Towels "Iconic Tui" & "Iconic Fantail",  Acquisitions | 7. DeLonghi Icona Capitals 4 Slice Toaster in Red, Farmers | 8. Ladelle Charlie Apron , Farmers.
A new kitchen also shows up the old appliances so you could splash out with a Delonghi or Smeg toaster or jug, available in several colour options; or stay classic and classy with cool steel and copper accents from Sunbeam or Russell Hobbs. I just know this time I'm getting a four slice toaster with her and his controls!
My tea towels, oven mitts and aprons all needed an update and I spotted the eco-friendly Ladelle range at Farmers. Made with recycled cotton diverted from landfill they were a win for me. The tea towels are really absorbent and dry quickly.  If you want a bit more colour or Kiwiana head to Acquisitions for some great options.
My other must have was a tiered basket for eggs, fruit and vegetables, and a window plant to add greenery – but with my brown thumb and a north facing window I've opted for an easy care planter.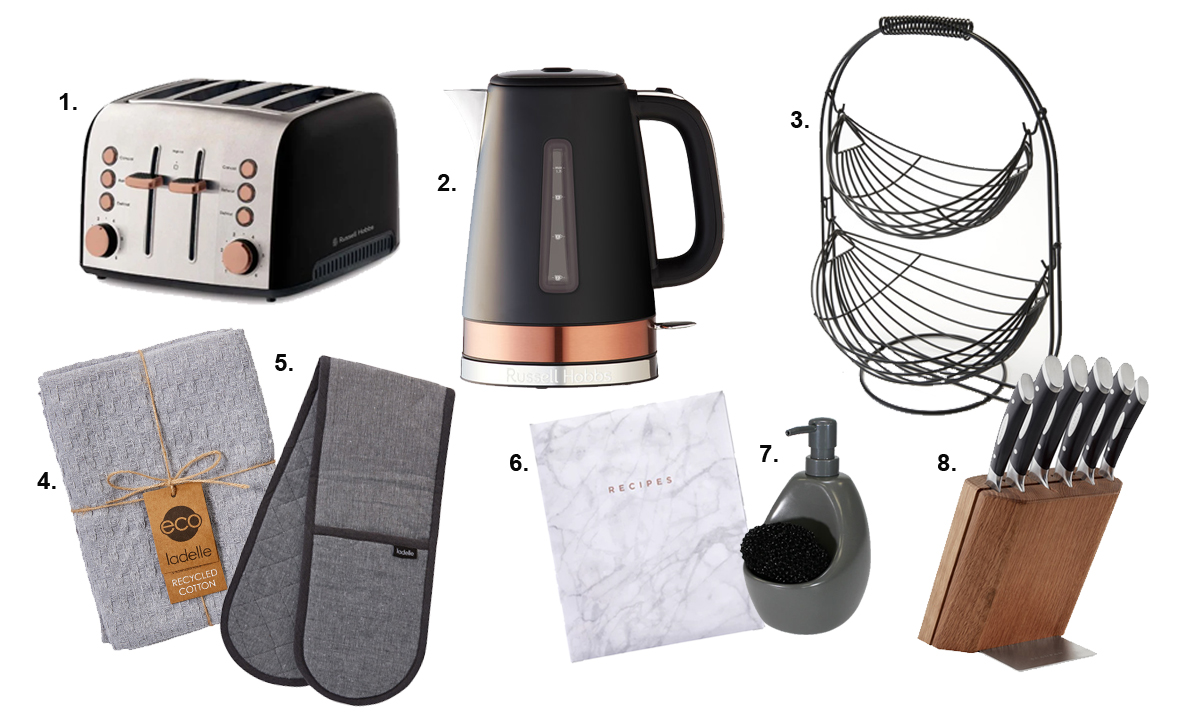 1. Russell Hobbs Brooklyn 4-Slice Toaster, Copper Accent, Farmers | 2. Russell Hobbs Brooklyn Kettle, Copper Accent, Farmers | 3. Cinemon Hammock Fruit Basket Black, Farmers | 4. Ladelle Eco Tea Towels, Set-of-2, Light Grey, Farmers | 5. Ladelle Eco Double Oven Glove, Grey, Farmers | 6. Noted A4 Marble Recipe Folder,  Whitcoulls | 7.'Joey' Scrubby Soap Pump in Charcoal, Acquisitions | 8. Scanpan Classic 7 Piece Knife Block in Dark Oak , Farmers.
While not out on view, my other must haves are non-slip mats for crockery, glassware and can drawers; stick on hooks for inside cupboard doors for dishcloths, tea towels, dish brushes; and a shower caddy for plugs, scourers etc. (all readily available at Yakeda's Party & Giftware); magazine file holders for cookbooks, in or out of the cupboard.
Even if you haven't renovated, these are some simple ideas to refresh a much used household space. Time to relax and enjoy the space you've created!