VALENTINE'S DAY GIFT GUIDE | CENTRE PLACE
Lifestyle
07 February 2021
Bet you didn't see this one coming – Valentine's Day is almost here! Shades of red and pink are starting to appear in shop windows and dinner deals for two are popping up everywhere you look!
If you're looking for the perfect gift for that special someone, we've got gift ideas galore that will be sure to get you into the good books (for a while at least!)
Gifts for Her
Anything that sparkles or smells (or tastes!) delicious is sure to do the trick! Men of the world – if you're shopping for the lucky lady in your life my top tip would be to find a lovely sales assistant in store and don't be afraid to ask for a hand to find something special.
What girl doesn't dream of jewellery and perfume on Valentines Day?! These classics are sure to please! If you're opting for jewellery – have a sneak peak at what she already has so you get an idea of what her tastes are. If you're not sure – keep it simple, easy to wear and classic. If you want to make it super personal, add an engraved message to the piece – that will be sure to make her smile!
If she's a lover of beautiful words there's a huge range of books available full of romantic love stories and uplifting quotes. Or, perhaps you could pen some words from the heart yourself!
Don't worry ladies, he has good taste – he chose you afterall!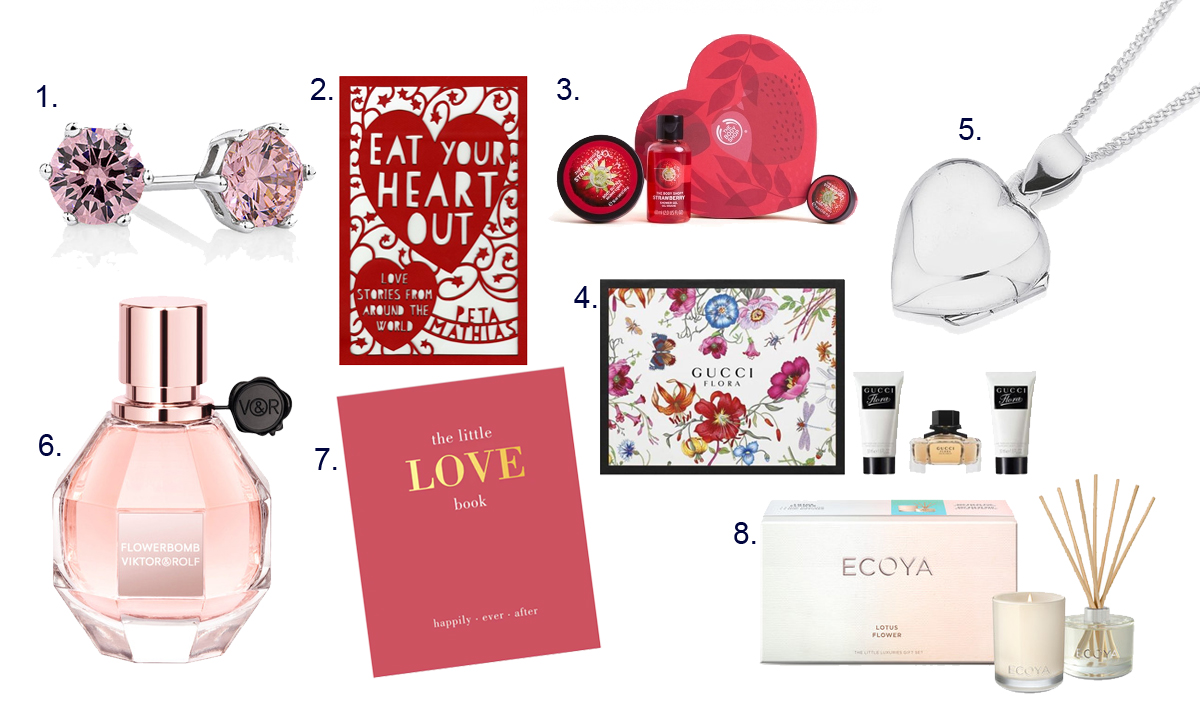 1. Stud Earrings with Pink Cubic Zirconia in Sterling Silver, Michael Hill| 2. Eat Your Heart Out: Love Stories from Around the World, Paper Plus| 3. G2 Heart Strawberry AR20, The Body Shop | 4. Gucci Flora Eau De Parfum 3 Piece Set, Chemist Warehouse | 5. Sterling Silver Heart Locket, Pascoes| 6. Viktor & Rolf Flowerbomb EDP, Farmers | 7. The Little Love Book, Whitcoulls | 8. Ecoya Little Luxuries Gift Set, Lotus Flower, Farmers
Gifts for Him
If you're struggling to buy for him – cologne is always a great option! Scope out his usual, and get him a top up or pick out something new that you think he might like to mix things up a little. There are literally hundreds to choose from so spend some time testing out a few scents and pick a favourite or even opt for a mini set with a variety of different scents that he can switch between.
If food is the way to his heart, chocolates are the answer! Pick out some beautiful handcrafted chocolates and pop them together with a sweet card, or a nice block with a romantic theme to it.
Add a bit of "bling" to his everyday outfits with a classic piece of jewellery – you can't go past a good dress watch!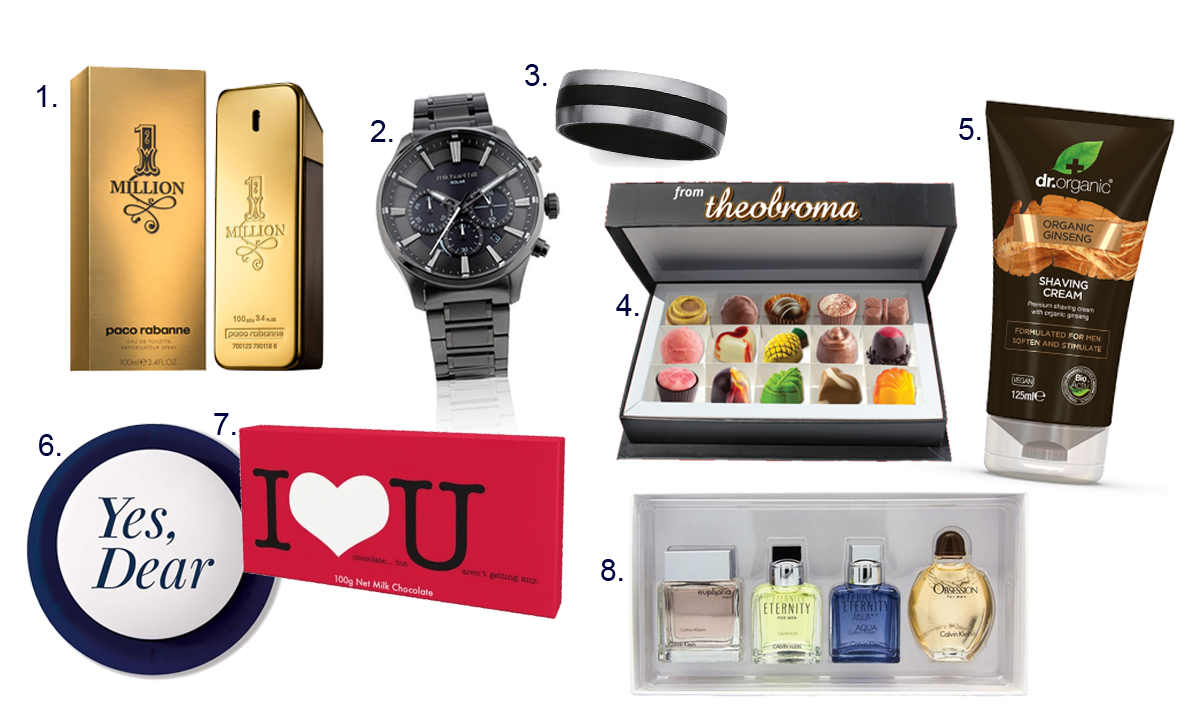 1. Pacco Rabanne 1 Million EDT, Farmers| 2. Men's Watch in Black Tone Stainless Steel, Michael Hill| 3. Chisel Stainless Steel Black Stripe Ring, Pascoes | 4. Mixed Handcrafted Chocolates, Theobroma Chocolate Lounge | 5. Dr Organic Ginseng Shave Cream, Tonic Health| 6. The 'Yes Dear' Button, Acquisitions | 7. Bloomsberry & Co 'I Love You' Milk Chocolate Bar, Acquisitions | 8. Calvin Klein Men's 4 Piece Mixed Set, Chemist Warehouse
If presents aren't your thing keep it simple with some quality time together – pop out for a nice romantic dinner, a quiet walk or a night out at the movies! Enjoy, and cheers to love!