WHY YOU NEED TO TRY THE FLYING BURRITO BROTHERS
Lifestyle
04 August 2017
When you're craving Mexican food, there's nothing that's going to satisfy you except for Mexican food.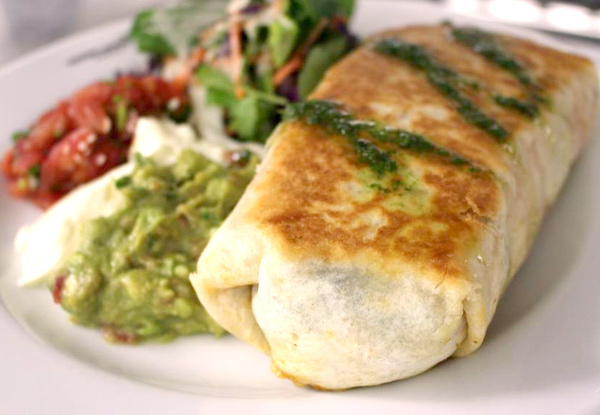 Luckily for you and I, Centre Place's The Flying Burrito Brothers has all the goods; cold beer and margaritas on tap, pitchers of sublime sangria, wicked zesty salsa, as well as authentic faves like burritos and nachos. Heaps of the plates are covered in various delicious cheeses as well, so why the heck wouldn't you try the best Mexican in the Tron?!
I took one for the team and gave most of the menu a whirl so I could impart some wisdom on THE best 5 things to order if you're feeling like a Mexican flavor fiesta. Here they are;
1. CHILI CON QUESO
If you're going to The Flying Burrito Brothers, you can't leave without trying the chili con queso. Think sizzling melted cheese with spiced green chilli, and served with a pile of toasted corn chips – mmm hmm! If you're anything like me and believe any misery can be resolved by the glorious taste of cheese, you'll be delighted to know that it's served in a sharing pot big enough to scoop it out by the forkful. If you're wanting a shared snack to start, order something else, because you'll want this baby all to yourself. And if you like melted cheesy dip, there really is none better.
2. TACO PATATAS
You may think tacos are pretty standard. Crispy shell, mince, sour cream, cheese of course, that sort of thing. But not the Brothers' tacos. Be transported to the vibrant streets of Tijuana with authentic street tacos, all served in soft flour tortillas which are handmade on site. While all of the Brothers' tacos are amazing, the podium is occupied by the Taco Potatas – guajillo chilli-spiced potatoes with fresh coriander, spring onions and topped with the aforementioned chili con queso cheese dip! So, just to repeat, that's potatoes and cheesy melty chilli dip wrapped in a tortilla. You're welcome, amigos.
3. FAJITAS CAMARONES
Having seafood that's fresh is a big deal for any juan who considers themselves a foodie. Luckily for us, the Brothers have beautiful prawns in their Fajitas camarones. Fresh, sautéed prawns with a lime and tequila sauce, with chopped cilantro, sautéed veges and some lovely tortillas makes for one of the best mains on the menu. It's accompanied by all of the trimmings – spiced Mexican rice, black beans, traditional guac and house salsa, so you definitely won't be leaving hungry.
4. CHIMICHANGA DE CERDO
Chiminchangas are the real surprise and delight of Mexican cuisine, and always near the top of my list. If you don't eat Mexican on the regular, essentially a chimichanga is like a smaller, deep fried or baked burrito! The Brothers' de cerdo is oven baked with pibil braised pulled pork, pickled onion, jalapenos with a kick, and topped with smoked pineapple salsa. Get. In. Ma. Belly!
5. CHURROS
That other stomach saved just for dessert – we all have one, and we all need the Brothers' churros in our lives. If you're a poor, misguided soul and have never tasted a churro, then you now know where to go. Authentic Mexican donut strips, rolled in cinnamon sugar and served hot with sweet dipping sauces and cream… You won't find a dessert quite as satisfying or quite the same anywhere else in the Tron.
The Flying Burrito Brothers is open from 5pm 'til late, 7 days a week, on Bryce Street. If you come on weekends and Thursday after 5pm, parking is also FREE in Centre Place's Bryce Street carpark.